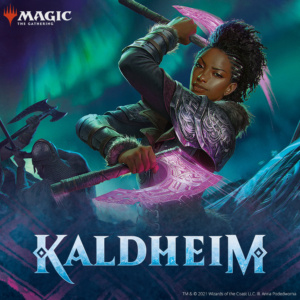 We at TerraCrux Games are excited to announce that preorders are available for Kaldheim, the next standard set for the worlds greatest trading card game; Magic the Gathering!
Set in a world of the same name, Kaldheim is strongly influenced by Norse mythology and heavy metal themes! Darkness and cold forge strong warriors and devastating magics to unleash upon your foes and hurl yourself into the annals of legend!
Here is a quick breakdown of the products and release schedule:
Prerelease Products available January 29th 2021
Draft Booster Box + Buy a Box Promo: The Box we all know and love, contains 36 draft boosters packs. The promo will a foil alternate art Realmwalker.
Prerelease Kit +2 prize packs: Kits come with 6 Draft boosters and are perfect for playing at home sealed events. We include two bonus booster packs as prize support as if you played in the store! Promo card will be a random rare or mythic stamped foil card from the set.
Release Day Products available February 5th 2021